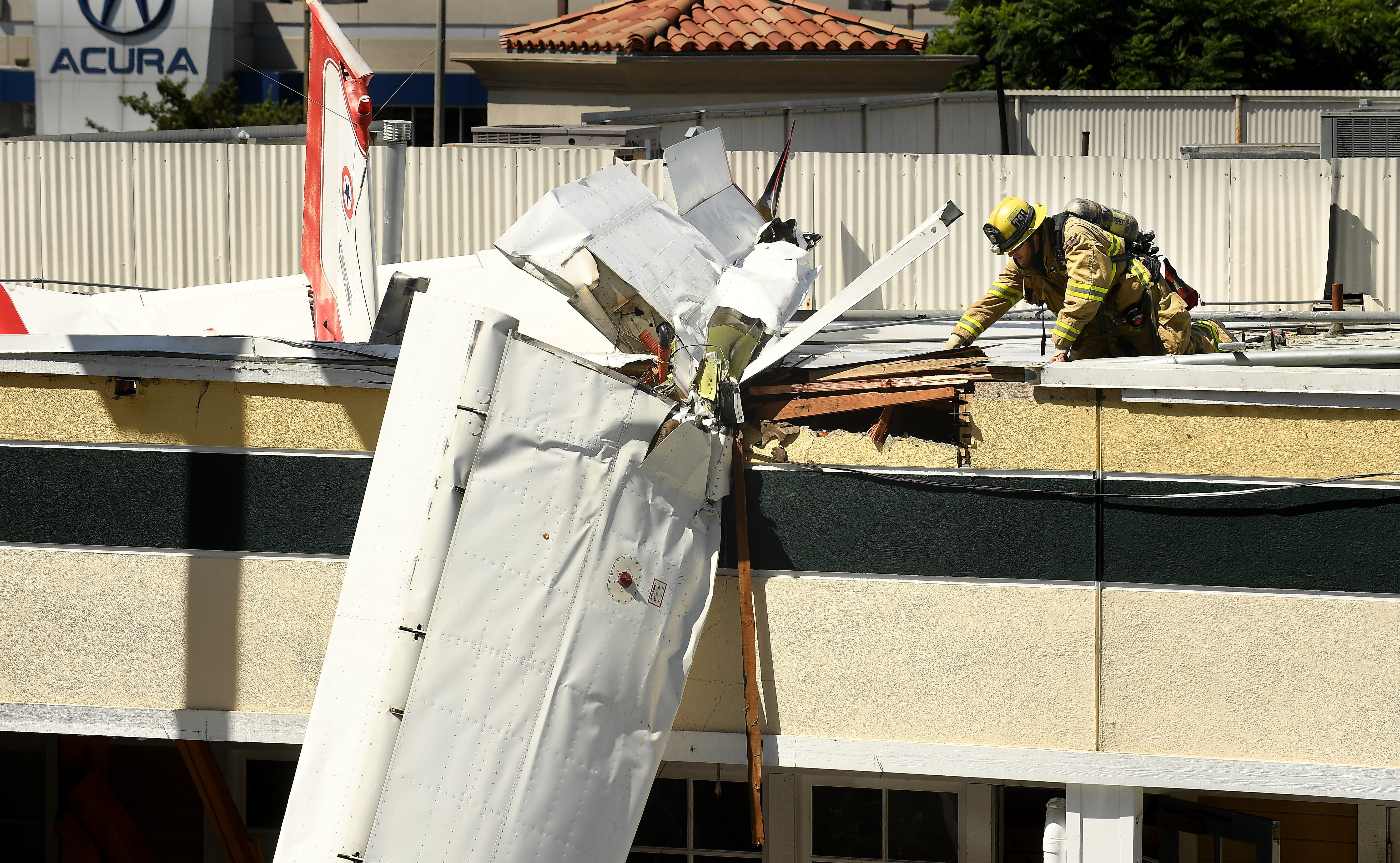 A small plane crashed onto the roof of a Torrance shopping center Thursday after going off a runway at a nearby airport, the Federal Aviation Administration said.
Two people were on board. One person died, and another was critically injured and taken to a nearby hospital, according to the Torrance Police Department.
The single-engine Cessna 177 crashed under unknown circumstances shortly after departing from the Torrance Municipal Airport, FAA spokesperson Ian Gregor said. There were no injuries reported on the ground.
The crash was reported around 12:15 p.m. in the 25300 block of Crenshaw Boulevard at Rolling Hills Plaza. Pamela Comstock, an employee of Request Mortgage, witnessed the crash from a balcony several feet away.
Comstock, who has worked in the area since 1995, said she's used to the noise of nearby planes. But the sound of this particular engine was different, she said, and she knew something was wrong almost immediately.
"I got up from chair and I saw a shadow of it coming over the building," she said. "It kind of dropped out of the sky."
The plane crashed onto the roof of a hair salon and dangled over the building's edge, dangerously close to a delivery truck.
The shopping center was evacuated. The site houses several other eateries and businesses, including a California Pizza Kitchen and Joe's Smokin' BBQ.
Comstock said she's trying to get back to work to take her mind off of the deadly incident.
"It's something you keep replaying in your head," she said. "It's something you can't unsee."
window.fbAsyncInit = function() { FB.init({
appId : '119932621434123',
xfbml : true, version : 'v2.9' }); };
(function(d, s, id){ var js, fjs = d.getElementsByTagName(s)[0]; if (d.getElementById(id)) {return;} js = d.createElement(s); js.id = id; js.src = "http://connect.facebook.net/en_US/sdk.js"; fjs.parentNode.insertBefore(js, fjs); }(document, 'script', 'facebook-jssdk'));